Marble Countertops in Fort Collins Colorado
Sales, Design, Fabrication, and Installation of Marble Countertops in Fort Collins
The New Venetian Inc. 
Sells, Designs, Fabricates and Installs Marble countertops and products in Fort Collins Colorado.
The word marble originates from the Greek word "marmaros"  which means  "shining stone". It is a naturally occurring mineral that forms from limestone over millions of years in mountainous regions of the world. 
Though Italian marble is the most recognized, Colorado also produces some very fine marble, known as Yule Marble. It is sought around the world for its unique characteristics. Originating from the Yule Creek Valley in the West Elk Mountains, it is quarried from an elevation of above 9000 ft and is 99% pure calcite. These unique conditions are what contribute to its world-renowned dense silky structure and luminescent qualities.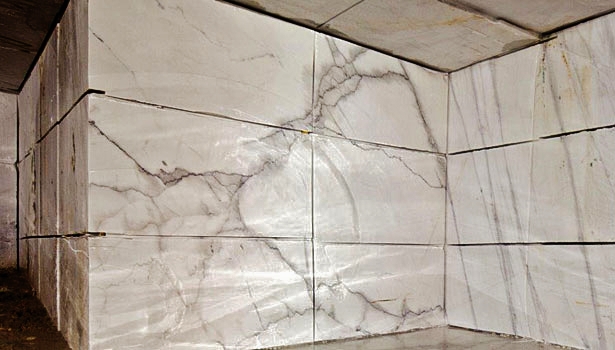 First discovered in 1873, Yule Marble has famously been used on the Tomb of the Unknown Soldier as well as to clad the Lincoln Memorial. In 2004 Yule Marble was declared the Colorado State Rock.
Though most marble occurs in white and grey tones,  when contaminated with other minerals or clay, deep rich tones of yellow, pink and gold can occur. No two marble slabs are the same and their uniqueness is what makes them so desirable.
Marble is not as durable, stain-resistant or heat resistant as Granite or Quartz. It is a high maintenance stone that can chip easily. Marble is porous and absorbs oil. Over time, marble will develop a patina from the oil in your hands where you commonly touch it. In the Kitchen,  marble often is stained from cooking accidents or spills that can penetrate deep into the stone and be difficult to remove. But these mishaps and wearing are often looked upon as character by lovers of this natural stone.
Due to the characteristics of this stone, it is a gorgeous way to make a statement of sheer beauty as your Kitchen and Bathroom Countertops. But be prepared for some regular maintenance and to have your Marble Countertops show their age right alongside you.

The New Venetian Inc has over 30 years of experience fabricating and installing marble for use as countertops, flooring, fireplaces, and wall-cladding as well as other practical uses. We have the knowledge to make your vision a reality with a stress free professional experience.
We can source marble slabs from all over the world. We can locate a quarry that has the unique characteristics you desire. Using state of the art machinery to cut and polish these slabs will leave you with a consistent quality product. And our knowledgable installers will leave you with a confident feeling of knowing your Marble Countertops will last a lifetime.
We are ready to begin working with you on your project, so please contact us today and let us get started making your dream a reality.