Fort Collins Colorado Premier Marble, Granite, Natural Stone and Quartz Countertop Supplier
Your First Source for Custom Countertops and other stone products.
We pride ourselves
  in a tradition of Old World Craftsmanship and personal service. Our materials and workmanship are impeccable with a collective knowledge of over 30 years of stone sculpting experience. Our knowledgeable staff will assist you every step of the way, from design to fabrication and installation, while holding true to the time honored traditions of the finest European craftsmanship.
The New Venetian inc. specializes in the custom fabrication and installation of marble, granite and other natural stone products as well as quartz from all manufacturers.
We have been in business since 1992 serving the Rocky Mountain Region and customers from all around the country.
We are dedicated to providing the highest quality product at competitive prices while maintaining the exceptional customer service that has given us the reputation we have today.
     We are very passionate about ensuring that every one of our customers are excited and satisfied with their new Granite, Marble or Quartz products.
     We work very hard to coordinate an efficient, quality installation to achieve outstanding results for our customers.
Experience.
Quality.
Precision Craftsmanship.
We Sell, Fabricate and Install
Granite, Marble, Natural Stone and Quartz Countertops and Products
For both Residential and Commercial Clients on Large and Small projects.
Please select a tab below to learn more about our services.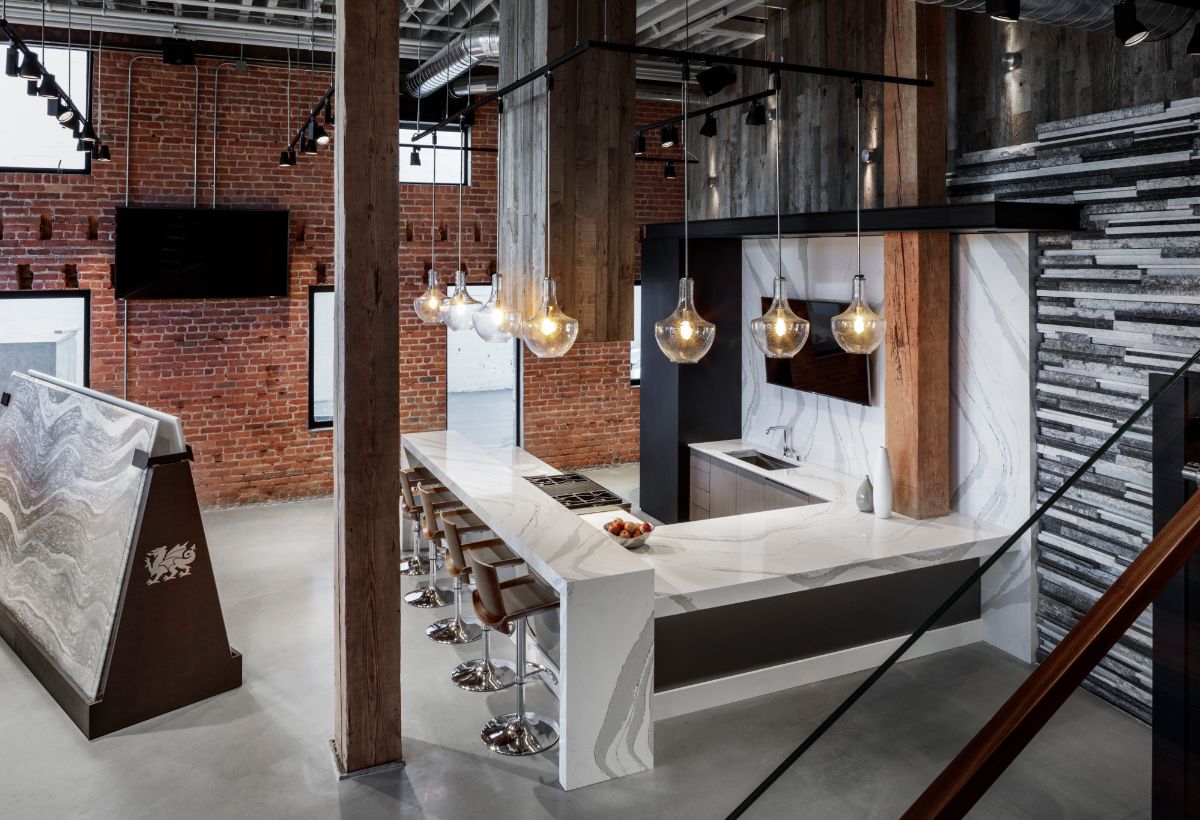 For 30 years, 
   The New Venetian Inc. has serviced commercial clients across the country with materials sourced from around the globe.
Our client list includes hotels, hospitals, stadiums, movie theaters and retail spaces just to name a few.
We offer sales, fabrication and installation of granite, marble and other natural stones as well as quartz from all manufacturers.
Whatever your commercial needs in any region, The New Venetian has the experience, resources and desire to make your project a seamless and timely endeavor with Artisan Quality and Old World ethics.
CSU Rams Stadium
City of Denver Water Fountains
Kansas City Municipal Auditorium
Suite 152 Restaraunt
Centruy 21 Movie Theaters
Chicago Cubs Stadium
Sephora
"We have used Venetian Marble & Granite twice now..Both times, we experienced them being on time and fair, and our installs went perfectly. Both times they were great with helping us pick out what would be the exact right piece. I would definitely use them again!"
"I found Venetian to be very responsive and of the highest quality. Ralph and his team made an appointment to measure and showed up on time. They then fabricated our kitchen tops and installed them on time. I am very pleased with Ralph and his team and will recommend them and use them for future projects"
Countertop Replacement in Fort Collins
Are you simply looking for a Countertop Replacement Contractor in Fort Collins? 
 From the quarry to your home, we can make your Granite, Marble, Natural Stone and Quartz Counter Top dreams come true. 
We specialize in Kitchen and Bathroom Countertop installation.  And as a Licensed General Contractor in Fort Collins Colorado, we have the crews to make your countertop replacement a seamless and stress free project.
Learn more about our process and view our selection online .